Here is some information for those of us (me) that had no idea who Spinal Tap was!
http://en.wikipedia.org/wiki/This_Is_Spinal_Tap
The band is fictional and is portrayed by actors. The movie This Is Spinal tap is a cult classic so the actors sometimes actually performed on TV shows in character as the band. It was all still a spoof though making fun of over the top rock and metal bands. It may have been based on a particular band, but I'm not sure.
Scotty's costume was the band member called David St. Hubbins played by Michael McKean. Here's a then and now article about the characters.
http://diffuser.fm/this-is-spinal-tap-then-and-now/
The article says the movie "is a tour-bus staple for musicians of all genres, and many say the film's look at the often ridiculous life of a traveling musician borders on uncomfortable." So it's easy to see why Scotty and Dry County would like it.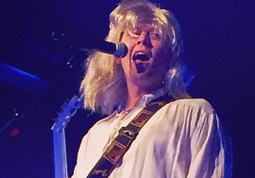 Judy Cooke McCreery @JudyMacGarner · @joeysanchez1: We are Spinal Tap from the UK......YOU MUST BE THE USA!! @ Cannery Ballroom
http://instagram.com/p/u1sPHbR6dX/