http://www.variety.com/article/VR1118058845?refCatId=16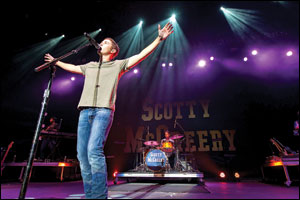 Scotty McCreery
Posted: Thu., Sep. 13, 2012, 3:00pm PT
Scotty McCreery: From 'Idol' to top hitmaker
Youth Impact Report 2012: Young at Chart
By IAIN BLAIR
Scotty McCreery
It's been quite a year for 18-year-old country singer Scotty McCreery. He won Season 10 of "American Idol" (the finale got a record-breaking 122.4 million votes and nearly 39 million viewers), released his debut album "Clear as Day" last October (it bowed at No. 1 on the Billboard Top 200 Albums chart, spawned two gold singles, and went platinum within three months), won new artist of the year at the Academy of Country Music Awards in April, and is touring with country superstar Brad Paisley through next month.
With his deep voice and love of "old country artists like Johnny Cash, Hank Williams and Merle Haggard," McCreery happily admits to being a throwback and says he's always bucked musical trends.
"As a kid, I was listening to Elvis and traditional country stuff while everyone else was into the Backstreet Boys," says the native of Garner, N.C.
"So I was the weird one, but it's paid off. A year or so ago, I was an average teenager, going to high school and working at the local grocery store. Now I'm on TV every week and playing huge shows."
McCreery credits his 'Idol' experience, "which was like boot camp for me," with preparing him for the past year. "It taught me how to deal with the media and all the pressure of touring and performing live for big audiences with Brad. I feel a lot older than 18, so much has happened so fast."
Impact:
Won "American Idol," released a hit album, and won new artist of the year award.
Next:
Releasing a Christmas album he recorded in Nashville ("I was singing 'Let It Snow' while it was 95 degrees outside," he says).
Cause:
Operation Christmas Child